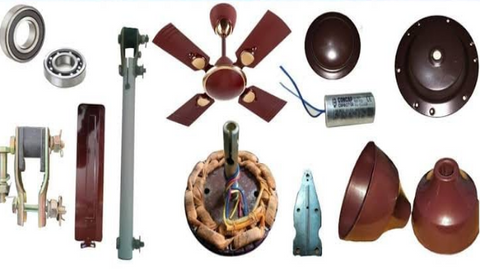 Ceiling parts
Resource: https://youtu.be/YGv4RK3_WPc
Have you ever wondered what all the components of a ceiling fan do? Well, here is an overview of the nine main ceiling fan parts and their functions. Not only that, but also other important information about the materials for each part, the various design options available to choose from, and much more.
What are the Parts of a Fan?
A fan is described as a device that rotates blades to create air movement and provide a cool environment or feeling. To enable that, it must use several components. Usually, the names and sizes of these components vary depending on the manufacturer.
Generally, though, fans are made up of a motor to power its operation, a housing to contain the motor, and other components such as switches and blades that spin to create air circulation.
The ceiling mounted fan is one of the most common types of fans today — and the subject of this article. The parts of a ceiling fan, as well as their function, are listed below.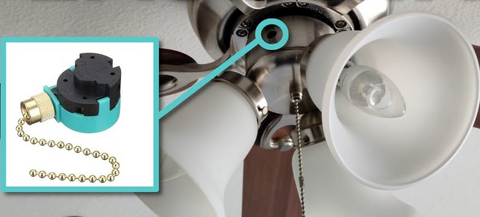 Ceiling fan pull chain
Resource: https://www.youtube.com/watch?v=oZf2gz6l94o
Ceiling Fan Parts
A typical ceiling fan  is mostly composed of these major components: fan motor and its housing, the mounting bracket and arms, fan blades, downrod, pull chain, light kit, and switch. Below is a ceiling fan parts list and what they do. 
1. Ceiling Fan Motor
The ceiling fan motor can be said to be the heart of the system. It powers the entire fan assembly and can come in various sizes or watt ratings and other features: it depends on the style and purpose of the specific fan.
The motor, based on the required performance and fan price, can be AC or DC. An AC ceiling fan motor offers a less costly option, but can be noisier than DC motor fan and not as durable as a DC motor fan. A DC ceiling motor type offers quieter operation, maximum speed control, and improved efficiency.
2. Ceiling Fan Motor Housing
The ceiling fan motor cover or housing is the part of the fan that encases the motor and other components. This component also serves to protect the internal parts from dust, dirt, and debris while improving its strength and providing structural support.
The ceiling fan housing is also a mounting point for other ceiling fan parts such as light fixtures. Additionally, it provides the fan with an aesthetically pleasing look and can come in different materials and finishes that match different room styles.
3. Ceiling Fan Bracket
This is the ceiling fan mounting plate, the structural component that attaches to the ceiling to support the fan's weight. It is typically made of metal and connects the fan to the ceiling and wiring box.
This fan mounting system should always be securely anchored. So it's usually secured by attaching it using screws. In terms of style, the ceiling fan mounting brackets can be differently shaped.
4. Ceiling Fan Arms
Ceiling fan arms form the link between the fan motor and blades, helping to secure the fan blades in place. They are also designed in various sizes and shapes depending on the style of fan being used.
Just like the blades that they attach to, the number of ceiling fan arms can vary between two, three, and even up to 9.  Usually, their number must match that of the blades.
5. Ceiling Fan Blades
These are the most visible ceiling fan parts. Ceiling fan blades are primarily responsible for circulating air around a room or space. Available in a range of styles and sizes, they are usually built to fit different room sizes and decor styles.
Different materials are used for the fan blades. These mostly include wood, metal, and plastic. Wood is the preferred option for more traditional designs, while metal and plastic are more commonly found with modern style fans. Plastic ceiling fan blades are mostly ABS material for durability and strength.
6. Ceiling Fan Downrod
The ceiling fan downrod is the part that connects the fan motor to the ceiling bracket, allowing it to hang down at the desired height from the ceiling. Usually, this part of the fan is hollow and made of metal.
Depending on the ceiling height and room size, you may need to go for a short or long rod. The ceiling fan downrod length is mainly determined by ceiling height to ensure optimal performance and air circulation. Most range from a few to 6 inches for ceiling heights up to 9 feet.
7. Ceiling Fan Pull Chain
Hanging down from the fan, the pull chain is the part that is responsible for turning the fan on and off, as well as controlling its speed. When equipped with a light, a ceiling fan will normally have a separate pull chain for the light switch.
Ceiling fan pull chain extension is typically either metal or a synthetic fabric cord that comes in various colors and sizes. They are also replaceable if they become damaged or broken over time. Not that not all fans come with a pull chain, though, as some are controlled by remote module or wall switch.
8. Ceiling Fan Lamp
For fans that offer illumination in addition to air circulation, there is an accompanying light kit. This usually consists of a lamp holder, shades, glass globes, and bulbs depending on the design of the fan. A ceiling fan lamp usually hangs down from the motor housing or arms.
A ceiling fan lamp can be powered by either electricity or battery, depending on the type of fan and its design. The light kit is usually replaceable if it breaks or becomes outdated over time.
9. Ceiling Fan Switch
Located on ceiling fan assembly near the base, the switch is the part that controls the fan's operation. It connects to the wiring system, and allows you to switch the fan on and off, as well as adjust its speed.
In ceiling fans that use a pull chain, the switch is designed with a means to attach the pull-chain to it. This allows you to control the fan's speed and operation with a simple tug of the chain.
In other models, such as the remote controlled celling fan, the wiring receives commands from the remote module and translates them into instructions to control the direction and speed of rotation.
The ceiling fan parts names mentioned and explained above are the most important. Depending on the type of fan and its design, there may be other components that are not on the list. That said, most ceiling fans come with detailed installation instructions that show you each part of the fan and what it does.
Conclusion
Your ceiling mounted fan is made up of several individual parts that all work together to keep your room cool and comfortable. From the fan blades to the downrod, light kit, pull chain, switch, and more. With a thorough understanding of these parts, you should be able to install your new fan in no time, as well as take care of any maintenance issues that may arise.