Installing a ceiling fan can be a cost-effective way to cool down and improve air circulation in any room. But the big question is, can you install it yourself? The answer is yes! Assembling a ceiling fan is not as hard as you may think, and the benefits of doing it yourself can be tremendous. In this blog post, we'll discuss the benefits of installing a ceiling fan, the cost of installation, and provide step-by-step instructions on how to do it yourself.
Benefits of Installing Ceiling Fans
Energy-efficient: Ceiling fans can help reduce your energy bills by providing a comfortable airflow without the need for air conditioning, making them a cost-effective option for any home.
Stylish: With a wide range of styles, finishes, and blade shapes, ceiling fans can add a decorative touch to any room while also keeping you cool and comfortable.
Multi-functional: Ceiling fans are more than just cooling devices - they can provide additional lighting, and decorative accents, and even help warm your room during the colder months.
Year-round use: Ceiling fans aren't just for the summer months. Most fans have a reverse setting that can help circulate warm air during the colder months, making your home feel cozy and comfortable all year long.
Is it hard to install a ceiling fan?
If you're considering installing a ceiling fan, you might be wondering whether it's a difficult process. The truth is, installing a ceiling fan assembly is a fairly straightforward task that can be completed in just a few hours.
If you're replacing an old ceiling fan, the wiring is already in place, so you can complete the installation yourself without hiring a professional electrician. However, if you want to install a fan in a new location or if you don't have the necessary wiring, you'll need to seek professional help from a licensed electrician to ensure the job is done safely and properly.
https://www.angi.com/articles/how-much-does-ceiling-fan-installation-cost.htm
Provide customers with convenient fan installation information
Proper installation of a ceiling fan is important for several reasons. First, it ensures that the fan operates safely and efficiently, preventing potential hazards such as electrical fires or fan blades falling. Additionally, a well-installed fan can provide optimal airflow and reduce energy costs.
To help you understand the installation process better, we have provided a step-by-step guide with screenshots to assist you. This guide covers everything from assembling the fan to wiring it correctly and mounting it on the ceiling. However, if you have any questions or concerns about the installation process, you can always reach out to our expert engineers at tommy@warmiplanetfan.com for assistance.
By following proper installation procedures, you can enjoy the full benefits of your ceiling fan while ensuring the safety of yourself and your loved ones.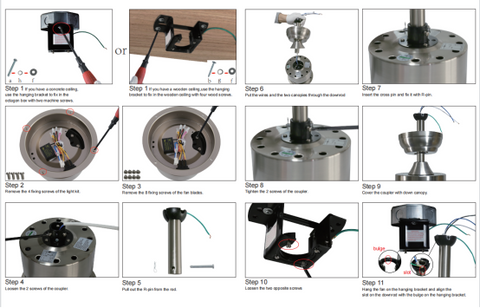 ceiling fan installation diagram
Conclusion
Based on the information we've shared, the answer is a resounding "yes." Installing a ceiling fan is a relatively easy DIY project that most people can handle themselves, especially if you're replacing an old fan that already has wiring in place. However, if you're installing a fan where there is no previous wiring, it's best to seek the help of a licensed electrician to ensure your safety and comply with building codes.
By taking the time to properly install your ceiling fan, you can enjoy all the benefits that it has to offer, from increased energy efficiency to improved comfort in your living space. Don't hesitate to contact a professional if you have any questions or concerns.